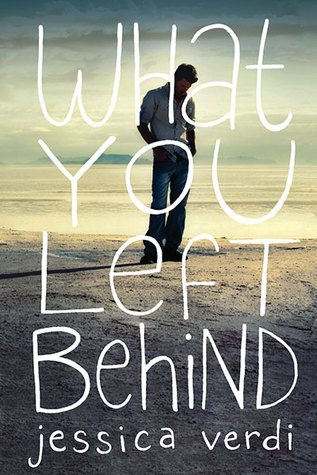 What You Left Behind by Jessica Verdi
Rating:
/5
Get a copy here!
AMAZON
|
BOOK DEPOSITORY
This is my first time reading a book from Jessica Verdi. But strangely I knew that I would love her writings. I don't know; maybe because she always chose intriguing titles for her books. The Summer I wasn't Me, My Life After Now, and What You Left Behind aren't the titles you could easily overlook when browsing for good YA novel to read. Or at least that's what I felt.
Told from male-lead character's perspective, What You Left Behind starts with a scene of Ryden's miserable situation where he often felt like crying harder than his baby, Hope, who went through her first teething phase. In less than a chapter, we get a clear picture of Ryden's life. A single parent at 17 years old to a less than a year baby girl, Ryden had to find a way to balancing his life between being a father and being a teenager. Calling it complicated is understatement. His is frustrating, hopeless, depressing, restless, difficult in god-level and truly unimaginable for people his age. Added with mysterious factor where Hope seemed to dislike his father very much―she cried whenever Ryden held her, Ryden was sure that he must be the universe' worst parent ever. He then came up with an idea that maybe it was because he was fatherless that he sucked so badly at being one. Maybe.
Ryden's mom was the only person he could get sincere support from. Not helping that Meg's parents seemed to forget their granddaughter's existence, moreover his existence. Even his friends took a step back from their circle, leaving Ryden alone with an innocent infant in his arms. Slowly, his world was shrunk into a tiny section where the only people exist were him, Hope, and his mom; which the only places the path connect were his home and his work place. Well, it sounds like Ryden could keep everything in check with that situation. But now that school was back along with soccer practice, it seemed like it's nearly impossible to add another factor to the equation. Suddenly everything was overlapping each other and his world was overloaded it might explode any time.
Without any much time left, Ryden had to make decision quickly ―not that he got a lot of good options on his plate. Hope was a priority, along with work and school respectively. And to leave soccer practice out of the equation was nearly impossible. So there he was, going at maximum level of pressure trying to manage every single thing under control.
It was during that hectic situation surrounding him like a thick scarf on his neck in the summer when Ryden met Joni. Joni represented the other part of the world where Ryden could be his old self, where he could be just Ryden Brooks, not Ryden Hope's-father. Being around Joni made his life more bearable, even though he had to hide his true identity from her.
As things became harder for Ryden to handle, reading Meg's old journal only added another thing that makes him spent, emotionally and physically. Ryden believed that there might be some secret or tips or whatever it was on her other journals that could make things easier for him to handle. Now with another thing on his to-do lists, Ryden's life was so packed up there's almost no time left to breathe. But it's okay 'cause he's convinced everything was going to be worth-it in the end. Little did he know that with his tight-as-sock schedule, Ryden ended up forgetting the most important thing that he's supposed to do in his life.
I know I'm supposed to feel sad or at least sympathized with Ryden. Yet I found myself laughing at him to the degree of slightly inappropriate. Ryden's circumstance is full of misery. It could easily trigger hard feelings or even tears for the readers. I like that Ms. Verdi writes Ryden's perspective in satire and witty manner. It makes the story less depressing somehow.
What most interesting is the characters themselves. The characters Ms. Verdi creates are all realistic. Instead of filling the story up with likeable characters, she prefers ones with complex characteristics; characters that show both good and bad sides personified. They are people with good heart but also possess selfish side as part of human traits. Ryden, Meg, Joni, Alan, even Ryden's mom show that side to us in this story. It doesn't exactly make them bad person, it makes them humans.
Among these characters, I think Ryden's mom is the one I like the best. Not only supportive as a mom, she also makes great companion for Ryden as a 'friend'. She never scrutinizes his every step. Instead, she let him learn what best for his life by choosing his own way while subtly leading him into the right path. Ryden himself isn't exactly my type of favorite hero. For a boy with high academic score and knows very well what his dream truly is, Ryden's pretty clueless when it comes to make a right decision for his and Hope's life. He tends to choose the wrong tracks repeatedly, every single time, and it frustrates me to the point that it's kind of hard to sympathize with him any longer. I felt like knocking some senses into his brain since it seems real hard for him to get it. Truthfully, the more I read about his frustration of trying to manage everything in his hands, the more I felt bored about it.
Meanwhile, Joni―whose romance with Ryden should have been one of the highlights of the book―doesn't really attract my attention. It's very unusual of me but for once I don't really care about the romance in this book. It, for me, feels a little off as it doesn't get a fair chance to be explored further. The book mostly focuses on Ryden's decision-making in life and Joni's story as his escape from hectic life easily being put aside. Joni's character is too shallow to be a heroine and the chemistry between her and Ryden barely exists.
My favorite part of the book is whenever Hope made appearance on some scenes. People's various reaction when interacting with this innocent baby is something poignant and tears-inducing. Ms. Verdi successfully portrayed the emotion each character feel, especially Ryden. The lasting frustration Ryden exposed to from juggling things between taking care of Hope, his social life, and soccer practice as the part of future plan to UCLA is being depicted vividly through every scene and word that I'm pretty sure many readers would appreciate. The ending is perfectly well done. I like that in the end Ryden finally realizes just how things should have been from the start. Though it took him longer than I expected him to be, at least he did.
What You Left Behind tells a story about how someone's past would never dictate their future. Instead of torturing ourselves regretting how bad the past or worrying how uncertain the future, this book shows us that sometimes all we need is living in the moment and seeing life from different perspective. Ryden's story makes us realize that no matter how difficult life is, it's always easier to live it as a beautiful present instead of as some cruel punishment.
I contemplated between rating this book with five points, but the lack of depth in Joni's characterization and Ryden's incapable of making at least one right decision as a father held me from doing so. I'd just settle with 4 points for now. This is a good rating but it's kind of sad though, as I expected to give more for this book at first...