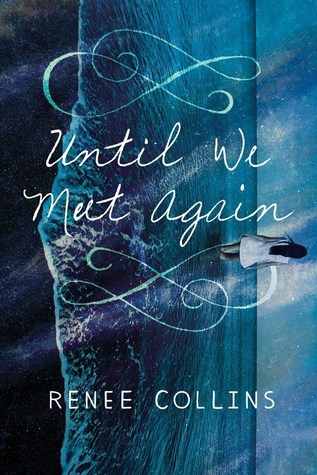 Until We Meet Again by Renee Collins
Rating:
/5
*
I received digital ARC of this book from Sourcebooks Fire through Netgalley*
Pub. Date: November 1st, 2015
The title was the very first thing that tugged the invisible string in my heart. It sounded sad and emanated poignant feeling like longing, aching, and saying farewell to someone you fell deeply in love with. And though the title says 'Until We Meet Again', it somehow indicated that none of them would ever come around to meet each other again; that it felt a lot like a final goodbye…
'"…. Time travel is impossible"
"And yet, here we are, a hundred years apart and in each other's arms"'
(Chapter XIX; Until We Meet Again)
The summer everyone dreamed of had come around once again,
except
, it might be the most boring one for seventeen years old Cassandra. Unlike her best-friend who was lucky enough to get to spend a time in Paris, Cass had to tag along with her family to Crest Harbor where her stepfather, Frank, rented a house for the whole summer. Don't get her wrong; Cass loved her family so much. It was just that she was half-frustrated to her own self for being so clueless with what she really wanted―or needed―to do with her summer and half-dreaded her mother for dragging her to a place where she felt like a total stranger which surely didn't help with her issue on the first place. Every day went more like a punishment as Cass still getting used to the life Frank brought them into―a life where people would rent a big summer house with a private beach and hold a party every weekend while laughing at lame jokes and exchanging polite smiles with cup of tea in hands. Frank was a great stepfather who Cass felt grateful for, and he even gave her an adorable little brother that she loved so much with all her heart. But sometimes it still felt surreal that Cass and her mother were now living a whole different life than their 'live-in-the-suburbs' one any longer.
Cass tried her best to distract herself from dying of boredom in her own family's summer house. And that's including getting herself into trouble by sneaking into the neighbor's pool; anything to infuse some little drama into her long torture of boring summer. Until one night, Cass met someone strange on the private beach behind her summer house. Someone with eccentric sense of fashion who didn't just bring 'drama' to her life but also engulf her into a warm yet mysterious delicate summer that suddenly felt so short to her liking. Someone with odd choice of words and claimed to come from 1925.
Lawrence Foster had almost everything he seemed to need this summer: a great place to spend his vacation at, good friends to hang out with, and a beautiful girl who attracted to him. Yet there he was feeling as out of place as he'd ever been. Lawrence felt more like floundering with his summer than enjoying it. Everyone seemed to know what he wants as they stirred him to go along with the arranged plan: law school, being a lawyer, marry a girl from the elite class, when what Lawrence truly wanted was to write poetry. No one thrilled to hear his dream of being a poet, especially his own father who literally dreaded the very idea of it. It was after he met a strange girl on the beach which belongs to his uncle's property that Lawrence felt that someone finally acknowledged his talent and even supported his dream. Cassandra, being the girl with whom he could be his own self. She was everything he never found in a girl before. Being with Cass made Lawrence realized that he should not have let the others get a control of his life, including which girl he should be with. Even if the said girl was someone with a witty and free soul who claimed to come from 2015.
'"In my mind, you have come to embody my dreams," he says softly. "A girl from another time. Who only exists on one windswept beach. You're a poem, Cassandra. You're my poem."'
(Chapter XV; Until We Meet Again)
A cosmological anomaly allowed Lawrence and Cass to be able to meet each other, flesh and bone, hundred years apart, on the beach in Crest Harbor. Both was in denial when they first found the truth but hundred years apart or not, the feeling of attraction could not be avoided between two people who share a rather similar issue: obscure feeling toward the future. Soon it developed into something more when they realized their feeling could create some 'new' ripple of events over time between 1925 and 2015. Lawrence and Cass knew better not to play along with mysterious game they were in. But when a history record of 1925 told Cass that Lawrence's life was in danger, she could not
not
plunge herself into a mysterious and dangerous circumstance with him. No matter what would change in the end, she could not let Lawrence's fate stopped in some record of 1925.
Oh boy, I could go on forever with the synopsis above but I know better than telling the whole story here. I even left out some important points so that you could find it on your own on the book. But seriously, this book makes me realize just how much I love and hate time-travel story with sparks of romance. Why? I love it because it's usually more romantic than any other kind of romance, much sweeter, and deeper in every way. Yet I hate it because it's usually also crueler and sadder… because whatsoever kind of plot it goes with, the characters would never end up together eventually. Trust me. I'm not giving a spoiler here but the truth is it's a fact in the history of time travel story I ever read. The couple would not stay together because it's just against the rule. God…
then why these authors cruelly write such amazing love story of them in the first place??

Okay, ignore my stupid rambling.
'Cause no matter what I complain here, this book proved to give me something more.
The beginning of the story felt a little pointless (and plot-less) as we introduced to background story of the heroine, Cassandra. I couldn't really see the point of slipping the scene of her breaking into her neighbor's pool and such except that it only made me see Cass as some annoying brat at first. But then I found the reason why a few chapters away later. And wow, it was kind of mind-blowing for me because I almost missed it that it caught me totally off guard. Cass is a girl with issue on her own which was being in the mid of what-will-I-be-later-in-the-future trap of anxiety just like any other teenagers her age. She loved to paint but she wasn't sure if it was something that she would make a career out of. And a series of other interests that her mom totally supported but ended up being left out again and again. She might be a little difficult to connect with in the beginning but after she met Lawrence, she became much more likeable that she drew me in. Lawrence's character meanwhile is amazingly loveable. And did I mention that he's a poet? Dude, nineteen-twenties boy with a hell of a skill in writing poetry? Hell yeah, count me in! He might be a little too cheesy for some but seriously, cheesy-poet is just one of my biggest weaknesses in life (someone slap my mouth shut, please).
The plot was simple and well-built. Even though I somehow could guess certain scene but I still found the story as intriguing and mind-blowing. This book also made me laugh a lot of good times with Cass's hilarious reaction of Lawrence's cheesiness. Seeing this couple just made me want to make love-shaped confetti out of my work files and pour it all over my bed (seriously people, just slap me hard already). It was just so cute when Cass contemplated between telling or not telling Lawrence about the coming World War II, imagining him in a uniform and all. And I liked how wise Cass could be sometimes. I also liked Cass' family. Even though their involvement in the story was not that much but I loved the portrayal of happy family they were in.
The ending was the best. When I thought this book would put a smile on my face in the end, it also didn't forget to make me cry. It's not that because I was sad, it's because the ending was so beautiful that I cried.
Ms. Collins did a nice job portraying the difference between the eras and slipped in little clues here and there to be unwrapped in mind-blowing revelations
. The tension was real that I could feel it as if I was the one who's on the scene battling with time and danger. I really liked it when she did that.
With lyrical and beautifully rhymed writing, Until We Meet Again is a time-travel story you would be engrossed deeply in, especially those who enjoy romance a little too much like me. And as a closing, here I present you a poem by my new favorite poet, Lawrence <3>3>
'Of truth and sea, her eyes become
Bound, endless in the vast beyond.
And morning starlight's milky shine
Reverberates her soul in mine'
(Chapter IV; Until We Meet Again)