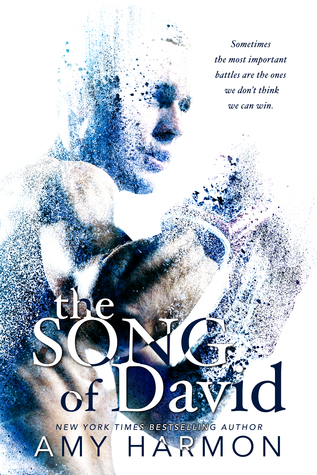 Get a copy here!
I've been waiting for this book to release since forever.
In The Law of Moses, we were introduced to the character Tag as Moses's newfound best-friend. Despite his suicidal personality in the past, Tag managed to rearrange his life after he met Moses. Both of them then went on in a journey together to find a reason to find a meaning of living to the fullest. When I first met him there, I was instantly attracted to Tag. His joyful demeanor was like a fresh highlight when things between Georgia and Moses kind of heated up. I really really wished for Tag to get his own happiness. Thus, I had a high expectation upon this book. And as always, Ms. Harmon didn't disappoint. Has she ever come close to disappoint me anyway? Even when I didn't quite get what I initially wanted, this book successfully earned the best spot in my heart.



'Why was it that no one saw her, yet she was the first thing I saw?'




(Tag; Chapter XI, The Song of David)
David Taggert had been through a lot in the past. Losing a sister haunted his life for years causing him to earn a self-destructive personality that in the end brought him to a mental health institution. Meeting Moses being the highlight when he finally started to pick up the remaining pieces and rearrange his life. It felt like a miracle, really, to be able to get out of the darkest part of his life. But it seemed like fortune keep growing on his side, because fate once again poured another miracle on his plate in a form of lovely girl named Millie.
'She was a brand new species, an intoxicating mix of girl and enigma, familiar yet completely foreign.'




(Tag; Chapter XI, The Song of David)
Amelie Anderson had been through a lot in the past. Losing her sight made her family turned upside down. Her father left them, years later her mother passed away leaving Millie with only her little brother who suffered mild autistic. It surely wasn't an easy task to get on with their life after the fall down. But Millie was a cheerful girl before, and she managed to stay the same now. Never once she regretted the way life dumped a lot of barriers into her path. Never once she let her condition broke her down.
Millie made Tag rethinking whether he already figured out the true reason for him to keep alive. Millie made him doing things he'd never thought of doing before in his life. Their first meeting was nothing like usual. There was no accidental collided, flirting words, or heated staring exchange between them. Yet Tag felt it was the best first-meet he'd ever experienced all this time. Millie didn't need to dress up or wear any make up to impress him. Because she didn't do any of that on their first encounter, yet Tag got his heart covered in strange hot and cold sensation when she linked her hands around his arms innocently, like it was the most normal thing to do in the world between two grown-ups.
'I felt like a man of a bygone era, a time when men would escort women, not because women couldn't walk alone, but because men respected them more, because a woman is something to be cared for, to be careful with.'




(Tag; Chapter II, The Song of David)
Walking beside her, making sure Millie got home safely almost every night, Tag realized that it might be the things he wanted to do more in the future with her. It's crazy that a lot of pretty women who attracted to his handsome face were everywhere but the only one who really attracted him was the one who couldn't see him. Before he realized, something already crept into his sleeves and made way straight to his heart whispering Millie's name like a wind in peaceful evening sky.
'I may have been standing next to her, but I was already falling.'




(Tag; Chapter IV, The Song of David)
Tag felt stupid of being all giddy on his own while Millie was so laid-back and innocent of assessing how things going on between them. The thing was, it wasn't the 'blind' part that made it difficult for Tag to confess his feeling for Millie. It was the 'falling-in-love-with-an-independent-girl' that made it not an easy task to go around blowing the magic word into her ear. So it might be best to lead everything from a friendship.
"A girl called Millie can be friends with a guy named Tag."




(Tag; Chapter V, The Song of David)
Millie might can not see but man, could she hear. Millie might not be able to see the longing expression on Tag's face every time they talked. Or how Tag was constantly staring at her from afar like a kid to an ice cream parlor. But Millie could hear everything. For her, each thing had a sound that differ one another. Some of them became her favorite; some just became a label to identify things. Being with Tag, Millie realized that a person could actually produce various sounds in which all easily flooded her list of favorite sounds.
"I have a new favorite sound."




"What's that?"




"The way you say Millie. It shot straight to the top of my list."

(Chapter V, The Song of David)
Millie and Tag, slowly but steadily spent their time together even though the true colors of their feeling hadn't shown up anywhere in sight because none of them wanted to complicate things. Tag began to question Millie's appearance in his life as his insecurities came back bit by bit as he looked at the perfection personified standing in front of him. And Millie, being a girl who used to have a strong façade for the sake of her brother, was scared to question his appearance in her life. Because as curious as she was of his motives, she didn't want to lose something precious like the old days when she started to question it.
"Thank you, David. I don't know why you are so good to us. But you are. And I'm not going to question it. I'm just going to be grateful."




(Millie; Chapter X, The Song of David)
Who knows that apparently their retreat moves ended up to be a misunderstanding when the line began to blur between them…
"You are not responsible for me, David. I want to walk. I like to walk. I walked home before I met you, and I'll be walking after you're gone."




(Millie; Chapter XI, The Song of David)
As a fighter who built up by a miserable past, Tag learned a lot that in a fight we always go alone on the stage even though we had the whole team backing us up behind. And when it seemed hard to win, the best decision was to back off completely. What he didn't know that no matter hard the fight, we could always win them every single time. That sometimes there was a time when we shouldn't always fight alone. There was a time where a companion was needed to reach a true victory. There was a time where Tag needed someone to complete the meaning of living to the fullest.
Perhaps, someone as strong as Millie…
'I'd only known Millie for two months, yet I was surer of her than I'd ever been of anything in my life. I was halfway down the aisle and just waiting for her to catch up with me.'




(Tag; Chapter XIV, The Song of David)
Someone as determined as Millie…
"I'm mad because I really like you. And I want to kiss you because I really like you."




(Millie; Chapter XV, The Song of David)
Someone who's a great listener as Millie…
"When you're with me, I feel like I glimpse a David nobody else knows it there.




It's the Song of David, and nobody else can hear it but me."




(Millie; Chapter XV, The Song of David)
That way, Tag would understand that to be with someone wasn't always to receive the other's lacking but also letting people see ours. That's the equality in a relationship. And that most certainly would become the truest reason for him to keep fighting together in life.
"The most intimate thing we can do is to allow the people we love most to see us at our worst. At our lowest. At our weakest. True intimacy happens when nothing is perfect."




(Millie; Chapter XXII, The Song of David)
Because after all, whatever circumstance we were in, the option was not to easily back off or let it break you down. The only left option was to keep fighting even when you think you don't want to.
'You don't ever disappear. You just change. You leave. You move on. But you never disappear. Even when you think you want to.'




(Tag; Chapter XXIII, The Song of David)
Again, I'd like to say that the cover of this book is SUPER DUPER gorgeous!
Along with The Law of Moses's cover, they both easily became my favorite book covers of the year. I loved the figure sketch of fighter who shaped up by thousand blue dots. I liked to think that the dots were the myriad of notes Millie played together creating a chord of David Taggert. It's the chord she played as her way to 'see' him. The chord that became the Song of David. See? This is the reason I love this cover. Not just because it looked beautiful physically but because the implication of the cover I have in the back of my mind.
Having read almost all of Ms. Harmon's books, I noticed that she had a pattern of story whereas the main characters were mostly the most evitable person coupled with a good-determined person. Meanwhile, this book featured new type of couple who presented a romance story as beautiful as the previous couples.
Character Millie was awesome! She's such a brave, strong, independent, no-nonsense, cheerful, and grateful girl. I was constantly in awe of her charms. I could really understand why Tag had fallen in love with her in the first place. And Tag… oh, Tag, I felt so much ache for Tag. He was this bright chatterbox in The Law of Moses and he still was here… until bad circumstance flawed his personality. Good thing, he got someone like Millie who even though lacked in physical abilities, she made it up in her emotional ability to take an action maturely.
I adored their love story so damn much. It basically wasn't the cheesy kind. Their relationship wasn't necessarily filled up with rainbows and colorful silhouette in their evening sky. Theirs was realistic kind and the one where both parties could learn the true meaning of loving someone in life.
Most of all, I loved how the story was presented here. Ms. Harmon went on with a unique way of story-telling. It's mostly from Tag's perspective (in a unique way) but Moses played a role as big as the main characters in this story. It's so poignant for Ms. Harmon to entwine Moses into Tag's story like this. We could clearly see their strong friendship here. It's really sweet and touching.
But to top it all above, God, I really really loved the ending!
The ending was kind of blurred. Ms. Harmon decided to play a little with the ending here. One of the reasons I keep coming back for her books is because she seems to always end her books with happiness. Let me spoil thing a bit here: The Song of David's ending was hardly an HEA, but it's not a sad ending either. She blurred the lines between sadness and happiness here in which I didn't know whether I had to cry or smile happily. But one thing for sure, it was a really beautiful ending. Real beautiful. It's realistically beautiful. And I could say it for 97 times more but I guess you guys already get the point.
So, now that I'm done with my long long review, all you have to do now is to click the store buttons above and get a copy of this book (together with The Law of Moses because it's REALLY RECOMMENDED to read it first before jumping into The Song of David). And while you read it, let me have a moment to savor, again, the beautiful ending which basically covered both couples, Tag-Millie and Moses-Georgia :)