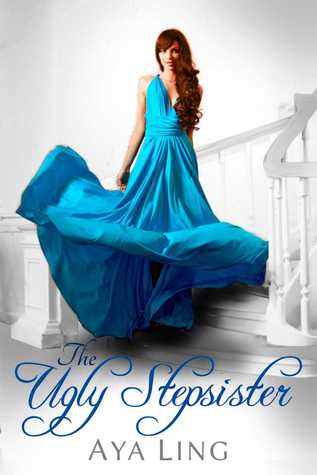 My rating:
4.5

of 5 stars
*I received a digital ARC of this book from the author in exchange for an honest review*
I never know that I'm such a sucker for retelling story before I read this book.
Maybe because I never read a retelling fairy tale story before but I truly found this book entertaining. This book might not a mind-blowing great read or such and I might say it's slightly predictable at some parts (after all, what kind of fairy tale that is not cliché?) but I really really enjoyed reading this. The story was so engaging that I kept wishing I wouldn't reach the ending anytime soon because I didn't want it to end at all.
17 years old Katherine was just a high school girl with too much klutziness on her bone, especially when she came across gorgeous boys on her path. Kat knew quite well that she was not that kind of girl who could easily attract boys her age. It was a sad fact yet she didn't know how to fix it anyway. Kat and Paige, her little sister, lived with their mom in a small house. Ever since their parents got divorced, they'd been living a moderate life, trying to save up money for her college and all.
One fine afternoon, Kat was in the attic of her house going through boxes of her old books that her mom wanted to sell on yard sale on the weekend. She found a years old picture book of Cinderella in one of them. Curious, she opened the first page of the book. Never once she imagined that she was about to experience living in a whole different dimension the moment she tumbled down the stairs after accidentally ripped apart pages of that book …
17 years old Kat was one of the ugly stepsisters' of Cinderella. That's the first thing she realized when she woke up with a throbbing head later. No attic, no dusty boxes, no old Cinderella picture book, and most alarming, Paige and her whole house were no longer in sight. Kat woke up in a king-sized bed in a strange old-fashioned room with worry maids crowding by the bed and addressing her 'Miss Katriona'. She must hit her head hard because everything seemed so surreal yet she could feel the realness with her finger tips.
Turned out the old Cinderella picture book was written by Goblin King and Kat was under a curse where she was punished for ripping the book apart so she was transported to the story world. The only way to come back was to finish the story all the way until the happily-ever-after part. Kat practically tried everything to bring her back to her ordinary life, including being a strangely kind stepsister, tracking a long path to discover true identity of Cinderella, finding a fairy godmother across the country, until doing anything to make the Prince falls in love with her maid a.k.a. Cinderella. Apparently everything didn't happen as smoothly as children story she'd known her whole life. The other ugly stepsister turned out was far more gorgeous than Cinderella herself; the fairy godmother was nowhere to be found; and the ball was not going to be held until the Prince said so which basically would be a long way because he practically disliked balls. Moreover there was a lot of social issue happened around her that constantly nagged her sensitive heart.
Kat was so focused in creating (or forcing, exactly) a happy ending for Cinderella that she forgot a lesson implied by all these magical experience: that a happy ending was not always the one like what the story told.
I loved the angle Ms. Ling decided to retell the story of Cinderella. Instead of making the heroine the actual Cinderella, she picked one of the ugly stepsisters to play the main role. It's so dang funny reading how Kat tried literally just everything to go back to her real world. The plot flowed neatly and there were some twists along the way. I loved how the author slipped other issues in the story as well like the social issue about child labor which practically commonly happened on the period. As someone coming from modern period, Kat felt the urge to throw her advanced opinion out there for people to see. But I must agreed with Prince Edward that if Kat herself didn't have an ounce of socially sensitive feeling in her heart, she might not busy herself with all the work and risk taking part in the protest. I liked Kat's character. She was funny, witty, and actually selfless. I laughed a lot reading how comical Kat was. Truthfully, I think I liked just everyone on this book. Prince Edward easily became my favorite hero. I loved how he put inner beauty above physical attraction. He was also so caring and understanding. Same goes with Edward's cousin, Henry. I loved how the romance between each character built up. It was slow and full of consideration and their every moment together… Gosh, I seriously craved for more!
The ending was predictable (again, what kind of ending you can expect from a fairy tale if not HEA?) but wrapped up real nicely. I liked that there was a completed-goal slipped in the end about how Kat finally fixed her lame issue of turning into 'mute jelly' in front of gorgeous boys now that she realized her worth, even though I was hoping for more scenes of 'after transition' Kat.
The Ugly Stepsister is a light and funny read with some cute moments and life lesson á la Disney. It can be a perfect companion when you feel like escaping from your list of heavy reads
!