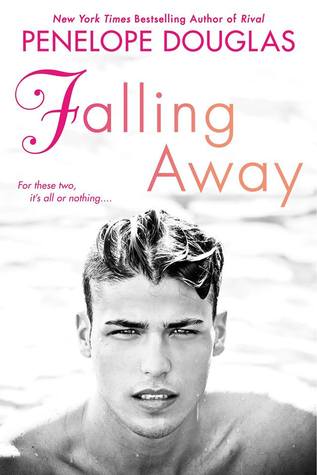 Okay, this is my third time of reading Ms. Douglas' books and this book is the third book of the Fall Away series. I was so damn excited to read this book (as I loved Bully and really loved Rival) but found myself keep holding back because I wanted to be wrapped in perfect emotion before starting the book. I decided to put Falling Away on the top of my May reading list because the timing was perfect. Lately I've been swimming in the sea of YA books so I was more than welcome to dive into NA genre.
Sooooo, as always Ms. Douglas mesmerized me with her ability to write romance. I loved how she paid full attention to build each character of her books. I loved that she opted to use the style of revealing things bit by bit to keep readers on the edge of their seats all the time. I loved that whenever she created a twist on the book, she went big on that like every single time.
Falling Away
surprised me big time with my change of opinions on some characters I've met on previous books. This was a story of K.C. Carter and Jaxon Trent. I made some expectations about these two characters but once I finished with the book, I was blown away. I ended up loving the character that I thought I'd hate for sure and disliking the one I thought I'd love. Seriously, I learned my lesson here:
to never judge people solely based on their present acts, you should know them very well first before making your opinion.
'The more you suffered, the more you survived. It shaped people in different ways, and what broke one person could empower another.'




(Jaxon Trent; Chapter XX, Falling Away)
K.C. Carter was never one to stray from her neatly mapped life. Growing up, her mother always made sure to keep K.C. on the right path. The careful, free of possible silly mistakes, right path. And that was what she did: taking political science major on college, staying with same-safe boyfriend for five years now, always being a perfect daughter, keeping distance from any potential troubles ―basically keeping herself on the right path.
But ironically it only took one night through one stupid mistake to make her arranged life crumbled down. Instead of in Arizona, K.C. was back to Shelburne Falls tutoring some troubled high-schoolers on her old school all summer with a horror of her tuition being cut off. And if it wasn't bad enough for her, there was another big hassle next door waiting to jump out any moment.
Jaxon Trent was the picture perfect of guy with charisma. In such a young age, he got everything under control on the palm of his hands. No one wanted to mess with him. For years, he made sure to walk with his chin up and straight to the front without ever looking back. After all he wasn't a scared kid any longer with bruises all over his body and soul. Nothing could break him apart anymore. Until he realized he still got one weakness of all things, in a form of girl staying next door.
K.C. had known Jaxon for years. He had been constantly watching her every move when they were still in high school. Never once though, Jaxon backed down. If any, he might be even bolder than before towards her. As K.C. tried real hard to fight the temptation which was Jaxon, in the end she could not deny him. Little did she know that Jaxon's freak of taking control over everything was shaped from past experience that was not any different from hers. Well, him might be even worse. When they finally agreed to stay on each other side, K.C. was finally able to fix her issue with the help of Jaxon who kept pushing her to her limit. But when she tried to push him back to his own limit, he showed the reaction she'd never seen on him before. Something radiated from him, something dark, something awful, something unforgotten and might be unforgivable. Could she help Jaxon to see the light inside his heart eventually? But what most important, would she want to stay after all? What with her raw wounds and Jaxon's insecurity that capable of not only hurting him but hurting her as well?
Falling Away
was great. I loved the plot, the climax, all the unravel secrets hidden behind the layer where the main characters stood in front of. Again this time, Ms. Douglas brought up a real issue of our society which was how parents' bad behavior shaped and affected the kids' personality growing up. She put all the real facts onto words of story. And it was kind of sad yet so damn touching when the abused kids―no matter physically nor mentally―tried to mend their souls by pushing each other's limit points so they could fight their demons together. K.C.'s issue was really awful. My heart sank when I found out that she had been going through such thing all her life, being forced to be someone she wasn't supposed to. This is something that might happen around us if we look carefully enough. And what with Jax's issue, it might be even more things like this happened every day in our world. These might be a cliché issues to be presented in a contemporary NA book but I'm personally glad that lots of author decided to keep bringing this issues up so that more people would realize that these very things do happen around us. Child-abusing, physically and mentally, is a very heavy issue that even nowadays it's still hard to prevent it from happening. I loved that this book showed us that even abused survivors could keep going with their life as long as there was loves keeping them warm every moment. Jax had been through a very rough experience as a kid and it shaped him to have such personality which was enigmatic, control freak, and totally insecure. It's very fortunate of him to have people he could call family to keep his sanity intact. And when he met K.C. who has been through quite similar thing in the past as him; it made him wanted to be stronger so he could save her. Sadly, he forgot to save himself in the process because saving K.C. meant to give her the best of all. And he certainly wasn't the best.
This was quite logical but I found myself really frustrated over Jax. It's really sad, though, because I was hoping I'd love Jax as much as I love Madoc or maybe Jared (after all it's hard to not comparing each related hero on a series like this). He had a really bad issue of labeling himself as lowest crap that he kept hurting K.C. to make her go away. It happened over and over again that I thought Jaxon was a bit labile in temper. Even until the last chapter, I still sensed of him wanting to take control over everything. It, for me, showed that he wasn't a hundred percent healed. It kind of made Falling Away had a happy ending but still with a side-note that they had a potential to breaking apart in the future. It made me feel uneasy for them.
I loved K.C. character here so much. I felt bad of hating her during Bully…I loved her strong personality! She amazed me when she decided to take a step standing up for herself especially at the moment when she was being hurt by the only guy she cared for.
'I guessed we've all built ourselves up through sadness, disappointment, and experience. It just happens at different times and in different ways.'




(K.C.; Chapter VIII, Falling Away)
And that moment when she chose to stay at the lowest point of her beloved one, God, that scene was so beautiful. I was in total awe of her that time. It's really good to pair this couple together. Jaxon helped K.C. to bring her 'wild' out. And now the 'wildness' K.C. had would teach Jaxon to lose his some over control. That's exactly what a relationship should give to you!
'[…] And relationship are supposed to make your life better. You don't drag each other down. You hold each other up.'




(Chapter XXI, Falling Away)
I loved this book but it's quite hard to relate with Jaxon (I understand his past but he made it difficult for K.C. to save him whenever he was having his weak moments, also what he said to Jared about Tate was quite mean…). The ending which had a sense of possible threat to them in the future made me not fully relief when I reached the last page. I'll settle with 4.5 stars, though, because I just loved K.C. and Ms. Douglas :)