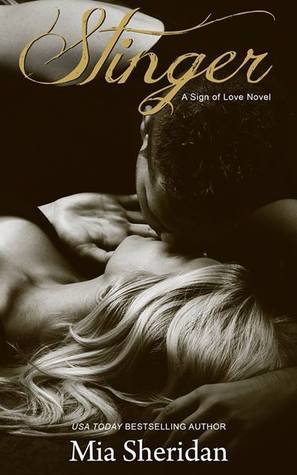 My rating:
5

of 5 stars
I feel like sharing some of my old reviews here today!
So I take some of those of my best favorite books from Goodreads and post it up here. You might find this review a bit awkward because this came from that days when I first started reviewing. But I do some 'polishing' so I guess it looks less like crap now... ;)
"Sometimes, you don't even realize anything is wrong until someone comes along and changes you, and makes you want more."
-Carson Stinger-
Another lovely book from Ms. Mia! \o/~~
Finally after putting this book on postpone for weeks, I picked this up from to-read list. Well, mostly because Kyland, the fifth book from A Sign of Love series, is coming soon in the end of this month and Lord, I cannot wait!!!!
I first read Becoming Calder (followed by Finding Eden), Archer's Voice then Leo. I didn't continue to Stinger that time because I found that Leo did not quite catch my breath the way the previous two books did. I went around another series and ended up forgetting Stinger on my shelf. Now that I read it, I feel like scratching the ground underneath for leaving Stinger unread for weeks…
Stinger began quite hardcore for me. The background of the hero as straight male performer kind of froze me for a sec there. I was like ―uh, this is our hero today? Um, okay, uh, I... uh, I can work with that. I think. Then I kept going anyway because of the contrast background between Carson Stinger, the hero, and Grace Hamilton, the heroine. It was really intriguing and unique.
Is that possible that two days could make one's life completely changed?
Is that possible for someone to change one's way to see the life they've been leading on all their life completely over a brief time such a weekend?
Is that possible for two people with two very different worlds to take the same path that will lead them to the same destiny?
The answers are all yes. Or at least that's what happened when a law student Grace Hamilton met 'hot' star Carson Stinger in a lobby hotel on Las Vegas one fine weekend. Grace was there for a law student conference; that was the very same day of Carson to attend Adult Entertainment Expo in the same hotel. It might be fate. It might be bad luck. For Grace to meet such cocky and full-of-himself Carson. Grace had enough with him after such stupid lobby and café run-ins they had. But another coincident meeting on the elevator changed everything as being forced to stay together in a stuck lift made them know each other more and apparently had showed their true colors. As they learned each other's bit pieces of life, some weird offering was laid on the table for them to take. Or not. It was casual offer to spend weekend together. Just casual like what usually happened between two strangers in City of Sin. Well, it should've been no harms done. But what if that weekend has turned into anything but casual for them? When those two days they spent together became such a turning point for… everything?
Stinger was based on the history of sign Scorpio. The story was divided into three parts: Scorpion, eagle, and dove, which represents a different stage of Scorpio's transformation. Just like each phase has different meaning; the plot of the story followed the history of this stage of transformation as well.
Scorpios, above all others, have the ability to transform selfish poison into universal love
I didn't know about it before, though, so this is like a good trivia for me! What I love from A Sign of Love series by Mia Sheridan is the fact that she made a really great story as the analogy of the signs. Every part was written very carefully and very well-built. I just could imagine what kind of research Ms Mia had done to make such awesome series.
Just like Becoming Calder and Archer's Voice, Stinger totally hooked my heart. Yes, I was a bit indifferent of the fact that Carson here was a 'hot' star. But well, this is Mia Sheridan we talked about. She really has the ability to bring the loves out of things that consider not people's cup of teas or beyond one's could imagine becoming the main attraction of a romance book. The very different background of Carson and Grace is what actually the main point of the story. I could never imagine that this combination would work… and beautifully even. The more pages I read, the more I know that Carson, of all people, deserves to be loved unconditionally by someone kind as Grace. I just… wow, this story contained a lot of baggage. It was not just a romance, hell, Mia's ability to write romance is unquestionable, and as usual the romance was damn strong, the chemistry between the main characters successfully made me biting my nails in jealousy. Just how rich this story of life lessons. It taught us that no matter what kind of past we had, it would never be something that people could judge us with. The past is not what shapes us now. But how we handle the past does. I learned a lot from this story.
As always, Mia's book made me sobbing all night long. Just how she described things in such angle to makes us see from different point of view toward certain things. This book kind of changed my way of seeing people with crude jobs. I never really thought that even 'hot' stars have their own insights of life that we could learn from ―not that I see their opinion useless before, I was just never really pay any attention of them. Or at least that's what Mia tried to show us here. It might gain some eyebrow raisings from people, but I must say that I'm really proud of Carson's character. Oh just wait until you read the story all by yourself.
I guess not much that I could say about this book, except the fact that this definitely goes to my ever-after-book shelf along with Calder and Archer's books. Go read this book and prove my review! :)