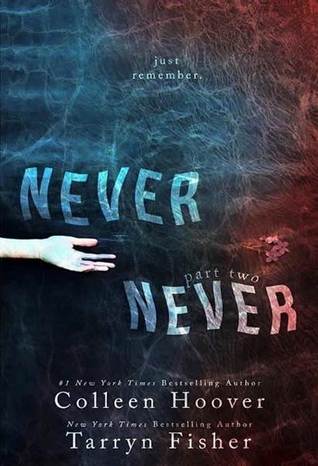 "Never forget that I was your first real kiss.

Never forget that you'll be my last.

And never stop loving me between all of them"

(Silas; Chapter II, Never Never: Part Two)
And we're back with Charlie-Silas on Never Never Part Two!
I was so darn excited for this book I practically 'screamed' on my previous review of book one. Both Colleen and Tarryn (or only Tarryn based on Colleen. Lol..) were so cruel to give us such worst cliffhanger in history ever. Now five months later the sequel was finally released!
I'm going to warn you guys who haven't read this book two of Never Never series. Please DO re-read the first book before picking up the second one. Just do it. Especially to those who had a weak long memory like me. I made a fatal mistake of going straight into Part Two without re-reading the first one and I ended up…
… like all the time.
I remembered where the cliffhanger took place last time but apparently with Silas and Charlie not remembered anything about themselves and people around them, I had a hard time following the story as well. Silas didn't remember Annika. That's the plot. But it made two of us because I didn't remember who she was as well. It happened again and again with the other characters I ended up become all so depressed in less than 10 minutes. Trust me, you'll need your mind all clear and prepared and full of memory of book one to read this Part Two.
Compared to book 1, this one had a more complicated plot. If in book 1 it still seemed like an introduction of strange experience happened to Silas and Charlie, this time they started to take a forward step to break the mystery. But even though they were able to gather some more important information, there appeared some people who kept blocking their progress. Book two filled with much more twists and also much more of odd things and mysteries as well. I was still figuring things out when I didn't realize that I hit the last page and there… the cursed three words sitting all neatly there like some innocent puppies. I nearly had a mini heart-attack right that moment I dropped my jaw and my e-reader all at once. Bloodyhell.
What I liked the most about book two was several things finally got explained here revealing true characters of Silas and Charlie.
"I'd rather love you at the bottom than despise you at the top"




(Silas; Chapter VIII, Never Never: Part Two)
I loved Silas on book 1 but I despised him a bit for being a bit of a jerk. Book two went all out to show just how much Silas loved Charlie.
"If it were possible to hear a smile, hers would be a love song."




(Silas; Chapter XVII, Never Never: Part Two)
My heart melted witnessing Silas went from not-remember-anything-including-himself-and-Charlie to still-not-remember-anything-but-cared-so-much-about-Charlie. My heart died a little seeing him fall in love all over again with Charlie. Oh mother father… even in whatever circumstance, his love managed to blossom quickly again for Charlie. It was as if the point of all these odd experiences were to prove again and again that their love would never die no matter just everything that happened to them. Dude, I seriously wanted them to figure things out so they could get their happy ending soon!
"I would give anything to have that memory back –to see what it was like between us when we loved each other enough to believe it was forever."




(Silas; Chapter XVII, Never Never: Part Two)
I'm ready to begging on my knees so that Never Never Part Three will be the last book of the series. I'm serious. I hope every mystery would be unraveled on the next book because it started to get creepy here.
Well, hopefully Colleen will understand that but I doubt it with Tarryn. Lol.