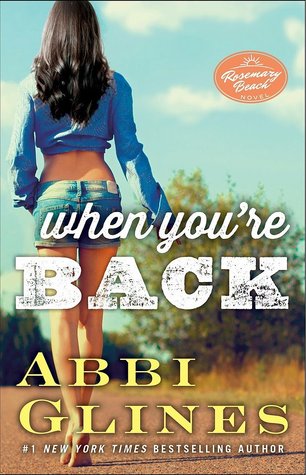 Rating:
Get a copy here!
ABBI GLINES IS BACK with the sequel of Mase and Reese story!
I was so dang excited to get my hands on this book. I loved this couple and Abbi made the wait difficult by leaving a snippet of name in the end of the book When I'm Gone. I decided to put this book on my top list of July's reads to make a great start for this month… only to be any more curious for the next book!
When Reese finally agreed to move in with Mase, it meant they were up to new challenge coming in their future way. It took a long way for Reese to finally agree to move to the ranch and left Rosemary Beach behind. Now that they're together, they would do anything so nothing got in their way again. And hard they tried, but there were moments when everything became too much making Mase and Reese realized that sometimes in a relationship, it wasn't just about fighting threats coming from the outside, but those coming from the inside might be the most destructive threat if not dealt wisely.
Like before, Reese's character hooked me in. I liked her in When I'm Gone and I liked her more in When You're Back. I know I said once that insecure girl isn't really attractive anymore that a lot of authors tended to use the personality on their heroine lately. But Abbi Glines is a master of creating insecure heroine and turning them into fighters. She made insecure girls bearable and even made my heart ache reading them. Reese was a girl whose miserable past had shaped her into this insecure-uncertain girl with trust issue. Something happened during her childhood ruined her perspective to see her future where they'd be highly possible bright path for her. It's really good to see her trying to work her way out of the dark clouds this time. While in previous book, she was this confused girl searching for something/someone to hold on to, finally met Mase, and surprised us with her brave act in the end, this time it was about Reese figuring things out in her relationship with Mase. It was about her seeing the worth within herself that deserved every ounce of Mase's sincere love.
As for Mase, I had mixed feeling for him. I really liked him in When I'm Gone but in this book, he kind of failed to remind me why I loved him in the first place on the first several chapters. I know how he loved Reese fiercely but he's just too much of a good guy to reject people's appearance in his life, even the bad ones. This indulgent side of him reminded me of Rush Finlay somehow. Rush loved Blaire just as fierce, but when Nan came around and pulled on some crazy acts, he often used to rush to get to Nan and left Blaire behind when Blaire actually needed him the most. Rush didn't mean bad, he just sometimes didn't know how to handle being a good boyfriend and a good family. Mase was like that in this book. I disliked him a bit for that considering Reese had too much on her plate to deal with things like fighting for Mase's attention when she so deserved it without asking.
I expected this book would totally focus on Mase and Reese working out their relationship together. But Abbi slipped on story of the others in there, too. It was fine though, since Kiro/Emily's story was heartbreaking yet so good. But I wish more of Mase and Reese. It's like Mase's side story took bigger portion than Mase and Reese's itself. With appearance of new characters, somehow, this book felt like a stepping stone for another story of them coming up. Don't get me wrong, I'm so excited for another book on Rosemary Beach series but again I say I wish to read more of Mase and Reese.
I liked some of the side characters, though. Major, for example was so much fun. I really really wish to read a story of him one day! And, oh! Mase's mother was the best! I liked that she always knew what to do to help her son get in the right side of the road. It's kind of cute though to see it this way, that Mase, the hot-gorgeous-sexy-fearless cowboy Mase seemed like always get in his momma's rescue when things went too wrong ;)
The ending had a bit of 'cliffhanger' feel. Well, not between the couple though because Mase and Reese got their happy ends here (yay!). It's something related to them and the last page had me sensing a whole new plot coming and would probably alter Mase and Reese's story in the future. Also, there were a lot of parts that left a bit hanging but I'm pretty much sure, being Abbi, she'd probably come out with a lot of new story built from these 'unfinished' parts. And that's why I said I became more and more excited of what would come in the future of the Rosemary Beach series!
Next book would be about Captain, Blaire's brother, who's Mase's frenemy here. I kind of disliked his role in this book but eventually… I got it! I was surprised, really, knowing his secret. Well, I wish to get to know more about him on his own book and hopefully he got something that would make me love him like I love the other heroes on this series!