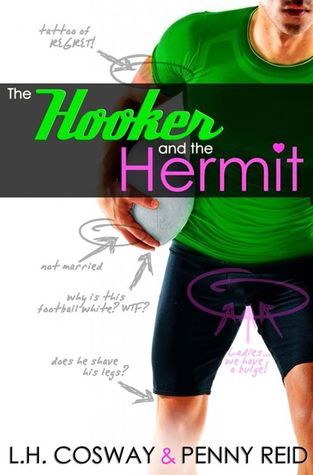 My rating:
5

of 5 stars
This is such a fresh break from my long tear-jerking March's reading list!
I really did not expect The Hooker and The Hermit would be this cute and funny romance book. So, when I began reading the first chapter and found out I guessed it all wrong, I was so so happy to pick this book from my reader's shelf!
Truthfully I've never heard of these two authors before. The first time I knew of them was when I saw one of bookblog's tweet about the book tour of this book. The cover was the first thing that caught my attention because of its uniqueness and the silly doodles. I did not read any review of this book and not even the blurb so I was practically 'blind' about what story it'd offer inside. But I could not deny the good feeling I had about this book and OMG what a feeling!
The Hermit was her middle name. Working from home and away from social life, Annie Catrel was happy enough with this way of living she'd adopted for years. It was not that she was a chronic introvert or what. Annie had her own reason for all this. A reason that she preferred to be buried instead of telling them to people around him ―not that there were lots of people she'd befriended with… A hundred eighty degrees from her social life, Annie was the star on virtual life. Everybody knew her, everybody loved her… but not as Annie, though. She was that famous and glowing blogger behind New York's Finest. Anonymously known as Socialmedialite, her posts always got the biggest portion of attentions among the whole internet users. The last thing she wanted was for her mask to be blown and she sure would never imagine her secret identity to be revealed to the world. Thus, she stayed completely away from social activities including being too friendly with people in real life. That included dating and so on. Until a guy came around, making her feel something she'd never felt all her life, and practically pulling Annie from the safe cocoon of her home.
The Hooker was his middle name. Well, not 'that' kind of hooker, if you asked. Ronan Fitzpatrick actually played the position 'hooker' in the Rugby League International. The best one. He was loved for his amazing play until the press entitled him as the reckless and violence rugby brats following his reckless action that caused him being suspended from the team. Ronan then flew to Manhattan in order to escape the wild ruckus behind. He was expecting for a bit silence and calmness by staying away from the annoying paparazzi back in Ireland. But what he didn't expect was to get caught by some other paps in States and being featured on a clandestine blog as 'Colin Farrell's doppelganger with weird sense of fashion'. He had enough on his plates to deal with such nosy but seemingly famous anonymous blogger. So, when his publicist told him to get his image 'cleaned' by one of the professional company on the related-field, he had no choice but went along with the plan. There he met a breathtaking woman with eccentricity like nothing he'd ever seen on any woman before. He felt himself being pulled and soon Ronan knew that his first dirty intention had slightly shifted to something more.
When both of them being paired on a project to reshape Ronan's public image, they got to learn each other's self closely. But what happened when one of them wanted to know more while the other determinedly wanted to keep the mask? Should they give up? Or just let 'the four letters word' doing its job?
Both Ms. Cosway and Ms. Reid are new authors for me but once I finished this book I could not help but feeling the where-have-I-been-all-my-life kind pang of regret. I did not know which one wrote which part but this book reminded me so much to Sophie Kinsella (in a steamier way) and only God Knows how I missed reading her book so this was like a sweet reminder for me. Loved their casual writing!
Both the characters were so easy to relate with. Especially Annie, God, the more I read about her, the more I could see myself in her. From the hermit-y habits, social-media freaks, observer type, eating hobby, to the reluctant feeling of being the center of attention in public. I enjoyed myself company than hanging out with group of chatter girls. Annie was so… me. In a lot of way (except for the miserable childhood). That's why I sincerely understood what she felt sometimes being in a crowd and all. And Ronan was, should I say, patient enough when facing Annie. Loved him for that! ―even though his dirty mouth needs to be plastered sometimes… They were such a perfect couple considering how his casual persona successfully pushed aside her rigid attitudes. And the other characters were so interesting as well, such as Joan and Lucy. I admit that both authors built every character on this book very thoroughly.
I lost count of how many times I laughed while reading this. There was even a point where I had to bury my face on the pillow to suppress my uncontrollable giggling. It's been a while since I read such utterly funny read. And I'm so so glad I found this book I even determine to read more of their books soon!
What surprised me more was I did not expect to find a bit of FSOG's sparks in this book. I mean, not it was not the plot or what, but just the similarity of issue brought up here (and it's way way tamer than what was on FSOG, so it's fine with me…). Overall, though, I really really enjoyed reading this book. And the ending was so cute (the epilogue… asdfhsjaflkd!!) I'm so happy that this is going to be a series because I'm wishing for Ronan's sister' story to be the next one (hopefully)!
I recommend this book for the lovers of Sophie Kinsella (steamier version). Trust me, you'll enjoy this a lot!