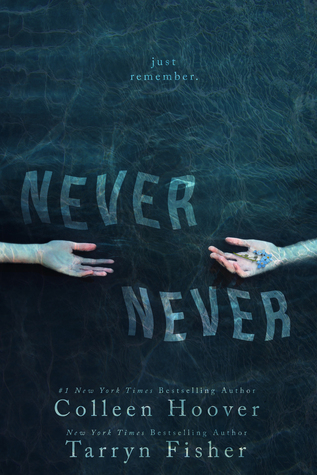 My rating:
5 of 5 stars
And the cruelest book I ever read in 2015. Seriously. I'm not kidding.
I'm not going to dwell on the story 'cause there's a huge possibility that I might give spoilers. And people should not write any spoilers about this book because it will just break the spell!!!! Except, if you are those kind of people who's fine with spoilers hitting you from every direction 'cause you still can feel the intensity of the book. BUT I AM NOT THAT'S WHY I DECIDED TO READ IT ONCE NEVER NEVER WAS RELEASED!!
Okay, first, I'm going to make the lamest confession of the year (and it's even still January..........).
"I confess that I have never read any of Colleen's books. Or Tarryn's."
Gosh, I suddenly cringe after I said it out. But really, I do. I never read their books. It's not because I dislike them. Strangely, I followed them both on twitter and instagram. I even joined email-subscription to Colleen's blog. But I never read their books. Like ever. Not even one. I don't know why. Maybe because my monthly to-be-read lists are always full and I happened to always forget to put any of their books to the lists (and am pretty strict with my own list. Idk, it's just a habit). Then news about Never Never came out and I (literally) made a biggest mental note to read this book once it's released on 2015. I must be blessed. I read it and I REGRETTED IT THAT I NEVER READ ANY OF COLLEEN AND TARRYN'S BOOKS! BIG TIME! Omg, where have I been all these time........... ;;AAA;;
Never Never
is awesome! I might have some (stupid) confused moments in the first two chapters of the book. I had to read it back and forth to match some scenes and names. But God, this book is bloody addictive! Every page keeps making you wanting for more. The idea of the story is real unique. I might have read stories with slightly same idea but there were some parts that made it different and stood-out than other books. And
damn
, I've never felt so dang curious to the level that I felt so depressed (but in a good way)
(Gosh, my words must be confusing but that's just what I feel after I finished it)
. Every word was beautifully written. The sweet scenes was so darn sweet I had this stupid grin that I should literally pressed my face to the pillow to stop it. And the writings were so hilarious!!! I laughed at several scenes that were damn funny which were EVERY PAGES. The POV is alternating by both characters and I LOVED IT! The main characters, Charlie and Silas were so cute!!! Somehow this couple reminded me on Margo and Quentin from Paper Towns. Tough girl and so-damn-caring boy. But in a whole better version! Even though Charlie appeared cold, the moment Silas showed his affections, she couldn't help but feel touched by them. I really really liked both characters!! And Silas, Oh God, Silas!!! Gimme Silas Gimme Silas Gimme Silas FREAKING GIMME SILAS!!! I don't care about anything that he'd done, I just care about what he do now (Nope. Not going to say anything more than this…)!! He's just the sweetest, cutest, wittiest, big time flirty boy in the world !!!!!!!!!!
I may not remember anything about her, but I would bet her smile was my favorite part of her
-Silas -
My heart ached for everything that happened to them. I almost shed some tears during last chapter when Silas wrote the last point on his letter… Omg that's just breaking my heart into tiny little pieces that was ready to be swept by ocean waves...
HOMG, I WOULD BEGGING ON MY KNEES IN FRONT OF COLLEEN AND TARRYN FOR GIVING THEM A BEAUTIFUL HAPPY FREAKING ENDING ON THE NEXT BOOK!! Wait.. next book? FREAKING GIMME NEVER NEVER BOOK TWO OH YOU BOTH!!!! YOU CANT DO THIS TO ME!! YOU CANT JUST PUT THOSE BLOODY 'TO BE CONTINUED' THING IN THE END OF THIS BOOK AND EXPECT ME TO BE OKAY AND PATIENTLY WAITING FOR THE BOOK 2 TO BE RELEASED GOD KNOWS WHEN!!!!!!!!!!!
I'm going to warn you, okay. This book has the worst cliffhanger in the history of ever-existed-books and you couldn't even hate the authors for that. Trust me. That's pretty much what I feel for them right now.
So please help me God, my only hope is that me and my heart can survive until the day Never Never book 2 is gonna be released. Until then… *smirks*, hope you feel depressed as much as I do. Lol! Kidding. Or not. Hahahaha...