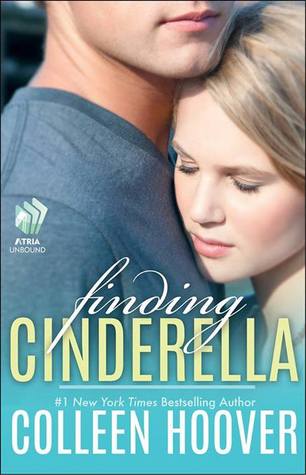 "I constantly have to bite my tongue when I'm around you because all I've been wanting to do lately is tell you how much I love you"
-Daniel Wesley-

BEST! ROMANCE! NOVELLA! EVER!
Oh God, seriously I never found a novella with a very complex and intriguing plot before. Finding Cinderella is a novella yet the story is not like what novellas mostly have. With 90 pages, it successfully grabbed my heart, made it bloom and squeezed it then pump it again before put it back up on its place. I never fancy reading a romance novella before because I think no romance stories could be delivered via such short plot within less than 100 pages. But Colleen Hoover, everybody, yes that favorite author of mine, she always knows what to do to make me fall in love deeper and deeper with her (lemme smooch you up messily like a baby panda.....)
Daniel Wesley never knew that his habit to hide during fifth period at school's maintenance closet would lead him to meet a Cinderella. Well, not literally Cinderella actually. He made up the endearment for a mysterious girl who he 'accidentally met' on the maintenance closet during fifth period. The said girl unknowingly entered the dark closet and fell on him. And she cried. Seconds passed by then turned into minutes until an unexpected kiss in the dark happened between them. She left after that leaving Daniel with a hope for her to come back again. A week later on the same dark place, they met for the second time. After a brief awkward conversation without any intentions of finding out whom each other actually was, Daniel and 'Cinderella' had a deal to play pretend as a long in love couple in 45 minutes. She left again after that, for good this time. And Daniel once again was left committing every single thing about her to his memory.
A year later Daniel met Six ―Sky's best friend who just came back from exchange program in Italy. After one simple dinner date, Daniel couldn't be any more convinced that Six was nothing like every girl he's ever been with. Six was bold. Six was so blunt. Six didn't do everything that Daniel knew as girls' shits. And Six fist-bumped him, that's the coolest thing a girl ever done to him. Less than 24 hours, Daniel and Six had turned from strangers to exclusive lovers. Whatever it was between them; it was so intense, it was unusual, it was so damn fast, it scared them both. But they really couldn't deny the attraction each other radiated. When they thought things couldn't be more intense and any scarier, they were faced with shocking truths repetitively in one night. Could they still hold each other's hands and keep going in this intense relationship afterward?
I always liked Six ever since she appeared for the first time on Hopeless. Her protectiveness toward Sky was something of her that grabbed my attention. And then Daniel was the one who made my feeling while reading Losing Hope lighter and happier. His funny personality and his specialty in making (rather disgusting) endearments were what made him adorable in his own way. He's so likeable, loveable even, so adorable!
The plot is simple but still… the shocking feels are intense. The other characters were interesting as well. Loved reading little moments of Sky and Holder here! Oh, and I love Wesley family so much! Such a cool family… no wonder the son was so loveable <3 I laughed a lot reading this novella. Like really A LOT. And when the climax came up… bam!
I almost had a mini heart-attack and had to bury my face on my pillow for five good minutes to muffle my scream. That was wow! I loved it that Colleen didn't think of over-sweetening the ending… always take the realistic path. BUT IT MAKES ME CRAVING MORE DOSES OF DANIEL AND SIX SO BADLY!!! Oh, how I hope they gonna have their own book someday… *directing a mass of puppy eyes toward Colleen* *please ignore my inner-romance-crave*
I'm starting to love reading romance novella now knowing that a novella could give me such a roller-coaster feeling too. Thanks so much for Colleen Hoover :)